No matter the size of your living space, art should always find a place in your home. The right artwork can make or break a room, so understanding how it fits into your space is essential. We'll take you through understanding the importance of scale and other factors you should consider before buying a piece of artwork.
Consider the room's interior design 
You don't want you're newly bought painting to clash with your interior design. Get a feel for what your room is. Are you a minimalist opting for a black and white aesthetic, and need a drop of colour? Are you bright and bold opting for loud colours, needing a simpler piece of artwork that won't clash with your design? Whatever your style this guide should help you well on your way to making your own art collection which art enthusiasts would be jealous of.
Think about scale 
As the saying goes, you can't put a square peg in a round hole, so why would you try to put a large piece of artwork into a smaller room or vice versa? Scale is an important part of choosing a painting, make sure you measure the area you want the painting to go or have a rough idea of what size you want. If you're unsure go for a standard size painting, this means you'll have the perfect size without having to compromise.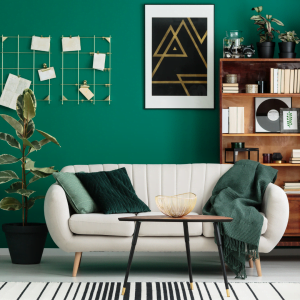 Think about lighting  
Now this may be a factor you didn't think about but, lightning can play a key part in picking out a piece of artwork for a room. If you have a room which is darker, pick out a piece of artwork that lifts the room and adds colour/dimension. If you have a bright room, consider something more subtle, even black and white can add the minimal look to a room.
Always follow your heart 
Art is about what you love and what you are passionate about, it should be a self-expression of what you like. You'll also be looking at the piece of artwork every day, so it's worthwhile making sure you like it before it becomes a fixed feature in your home.
Mix and Match could be the way to go 
Leading us into our final point, it's time to mix and match.
Don't feel you have to stick a modern art piece with a modern interior design. Mixing different style genres is a great way to spice up your living space. Add a dash of contemporary with any modern styles. -The options are always endless.