Project Title: Healthy Hearts Programme
Award: £9,000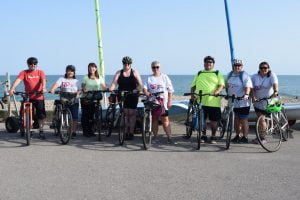 One hot summer's day in July 2019 our Healthy Heart Coordinator Sarah took a trip down to the beautiful South coast to see how our project beneficiaries in Meridian were getting on.  What she observed was inspirational. 
The Obesity UK Healthy Hearts project met at the Boathouse cafe in sunny Bognor Regis where the group set off for the last of their supervised cycle rides.  It was a particularly hot  evening and the group had rosy faces as they shared not only a sweaty bike journey together, but their own personal journey of smashing the barriers to a healthy lifestyle. 
Cycling is just one way this community group are tackling issues related to obesity such as isolation, stigmatisation and lack of mobility.  Many have also benefitted from cooking projects and mindfulness workshops which help to tie it all in together, bridging the gap that traditional diet groups often overlook. 
We were thrilled to hear encouraging stories of people who had never ridden a bike and are now cycling regularly instead of using the car. Families are benefitting too from healthier home cooked meals and regular weekend cycles. Some beneficiaries of the funding have cycled distances up to 100 miles!  It just goes to show that with a little support and friendship, we can all eat better, move more and get on track for a healthier, happier life.