Cocoa brownie oatmeal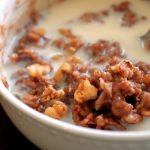 Cocoa brownie oatmeal
½ cup of rolled oats cooked with 1½ cups of
water
1 tsp raw (unsweetened cocoa powder)
¼ tsp cinnamon
½ cup unsweetened almond milk
1 tbsp walnuts
1 tbsp ground flax seeds
Cook the oats with 1½ cups of water until they are fluffy and all the water has disappeared. I do this by cooking it for 2 minutes in the microwave, stirring, and cooking it for 2 more minutes. You could do it on the hob if you prefer.
Add the cocoa powder and cinnamon to the cooked oats while they are still hot.
Stir until everything is fully combined, and your oats have a deep chocolatey colour.
Add the walnuts and the unsweetened almond milk, then stir to combine until the oats have the consistency you like.