Project Title: Operation Transformation
Amount: £8,000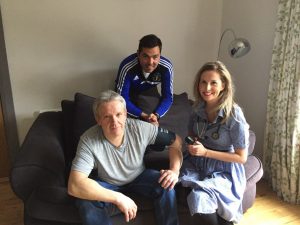 Following a small online survey conducted in 2017 amongst Errigal Ciaran GAC club members, family and friends, it was found that 69% of adults in County Tyrone were not achieving the recommendations of 150 minutes each week for physical activity, putting them at risk of heart disease. Local GP, Dr Aifric Shields decided it was time to do something about this and created 'Operation Transformation'- a dynamic, varied and accessible project in rural communities of County Tyrone. 
Free health screening offered by local GPs, Doctors, Nurses and the Heart Research UK's Healthy Heart team gave people an insight into their health and helped individuals feel empowered and motivated to reduce their risks of heart disease. Beneficiaries were then offered a range of weekly activities for just £1, including circuit training, Kettlercise, yoga, jiving, boxercise, Zumba and running via the popular NHS Couch to 5K programme. Sessions were supported by nutritional coaching, regular walking groups and follow up health checks in community hubs. 
 People in County Tyrone used to struggle to get to leisure or health facilities and felt socially isolated. This project directly benefitted 178 individuals aged 16 to 80 years old people and through a variety of community events, helped make the wider community feel involved, supported and confident to take part in regular and sustained physical activity. Everyone who attended health checks at the start and finish of the project saw an improvement in their blood pressure, BMI, waist circumference or cholesterol. All felt happier and healthier. 
 As a GP Dr Aifric Shields learnt how powerful physical activity is in changing health outcomes. Reflecting on the success of Operation Transformation, she reports: 
"Before this project, exercise would have been part of my advice on lifestyle changes but now it is the most important! I now issue patients a script to take part in at least 30 minutes of exercise per day. I know this will change their life and their heart health. I also know if they start exercising they will then in turn make other healthy lifestyle choices. I have seen the benefits first-hand."