Welcome to our first Healthy Heart Grants newsletter!
Helen
Head of Health Promotion
Katie
Grants Administrative Assistant
Simon
Health Promotion Coordinator and Physiologist
Tips for Healthy Heart projects
A successful project should be monitored as it is being delivered. Here are some top tips to help you plan and gather information as your project progresses:
Take time to plan how you'll monitor and evaluate your project
Make it one person's responsibility from the beginning to coordinate the collection of this information
The best way to judge whether your project has been successful is to collect information as you go, from the people who participate
Keep a folder of photograph approval forms for all participants featured in any snapshots
Use each reporting stage as an opportunity to plan your next steps.  How will you overcome barriers to delivery?  How will you improve impact measures?  How can you ensure the Heart Health message is sustainable beyond the life of the project?
Be clear about your outcome measures, what qualitative and quantitative data will you collect and how?
A number of our grant holders have told us that they have found social media or Whatsapp groups really helpful to keep group members engaged with their projects in between sessions or when face-to-face delivery has not been possible.
Grant Project Leader, Dave from Blackpool FC told us: "we also set up a private group on Facebook to encourage people to keep active and track steps where possible with a competition to post pictures of their walks, help people stay motivated and keep in touch and try to build a social media community for our healthy hearts project".
Our team writes a weekly Healthy Tip, which you may find useful. You can sign up to receive these via email here.
Latest Award:Our latest award went to 'Gateshead Older People Assembly' in our Tyne and Tees Region, for a project working to improve activity levels in those aged 50 and over.
Pulse Magazine Release: This month sees the release of the charities bi-annual magazine which features summaries of our 2021 grants. View Pulse here.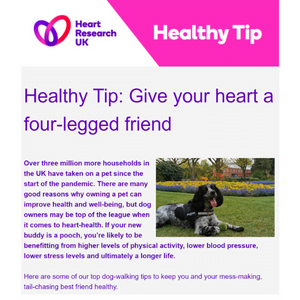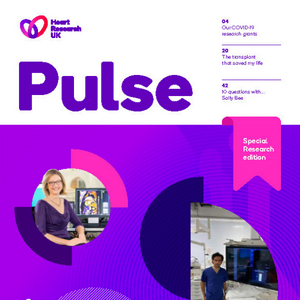 Harryville Men's Shed, Ballymena, Northern Ireland.
This grant was awarded in March 2020 but was put on hold due to COVID-19. The project aims to get group members of the Men's Shed more active through walking and will also teach participants how to cook heart-healthy recipes. Here we interview Hannah, the project coordinator, for her tips and experiences: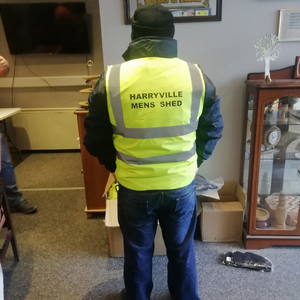 "This project has provided an opportunity for a group of 12 men to take part in physical exercise, out in the fresh air surrounded by nature, and to boost their mental health and morale by getting out of Ballymena and enjoying the fun and banter of going for a walk together. Problems encountered have been largely due to COVID-19 and the difficulty of ordering the items required to kickstart the project."
"We would say that staying connected with funders as much as possible is crucial to the success of a project. We would also advise encouraging members to take on a little responsibility towards the project as this takes pressure off the organisers while also encouraging participants to feel a sense of ownership of their project."
"One member stated that laughter was his number one tip!"
This pioneering, off the shelf programme is something we offer to Primary Schools free of charge. It includes lesson plans and homework games, covering all the heart and circulatory system specification points on the Key Stage 2 curriculum.
Head to our events page on our website to see what events we have coming up and details of how to get involved.