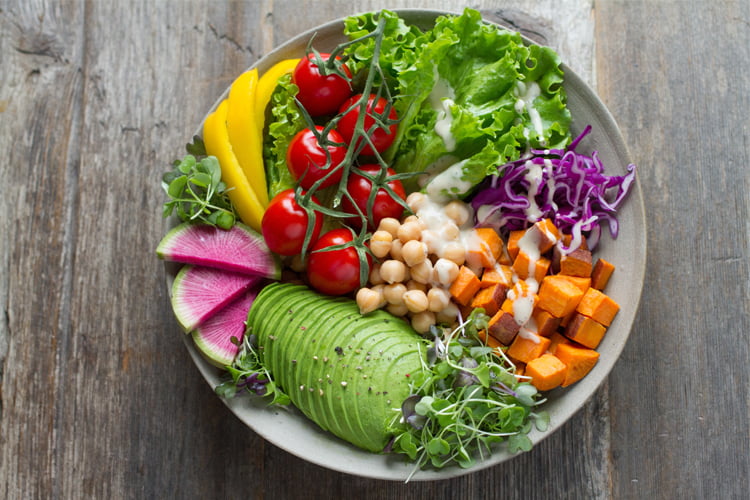 Going vegan is a hot topic, particularly this time of year when people have set New Year health goals. The BBC has reported that the number of vegans in the UK is on the rise, with more than 600,000 Brits likely to be vegans in 2020, compared to 150,000 in 2006.
Social media, celebrity interest and supermarket choices may be largely influencing this popular way of eating, but reasons to ditch animal products like meat, cheese, eggs, milk and honey seem to root in concerns about the world around us. It's generally accepted that vegan eating could offer benefits for the environment, animal welfare and your health.
The benefits of the vegan diet for your heart depend on which foods you go for and what else you do with your lifestyle. Those who cut animal foods out of their diets tend to benefit from more fruit, veg and fibre and less saturated fat, with better blood pressure and cholesterol.
Whatever ethical beliefs and personal preferences you might have, eating a heart healthy diet means getting the right amount and variety of good wholesome foods on your plate and shaking things up a bit can keep things interesting.
Get the balance right by trying out some of our Vegan inspired Healthy Heart Tips:
How does a Kale and Avocado Pesto Pasta sound for your work lunch or a sweet potato and black bean stew for a hearty evening meal? Or what about a mushroom, fig and spinach pizza to add a touch of class to your movie night in? These are just a few of the new and delicious recipes you could try, available to download from the Happy Healthy Heart Cookbook, created in partnership with Damart.
Rapeseed oil, walnuts, green leafy vegetables and soya foods like tofu contain an important type of omega-3 fat which, when swapped for foods high in saturated fat like fatty meats and cheese, could help to protect your heart and arteries. For a traditional pasta or chilli dish, try swapping mince for lentils, beans or chickpeas and add some crushed walnuts and spinach.
To make sure your body isn't missing out on essential nutrients, a vegan diet needs to be well-planned and you might need to top up on some vitamins. This time of year when sunlight exposure is limited, everyone in the UK should consider taking a vitamin D supplement. This is especially important if you're cutting out animal products. You'll also need to supplement on vitamin B12 as you can't get this from plant based foods. Check food labels for the word 'fortified'- most vegan spreads, breakfast cereals and soya products have vitamin D, calcium and B12 added to them.
The Vegan Society have worked with the British Dietetic Association to give you the low down on good nutrition for vegans. Take a look at: https://www.vegansociety.com/resources/nutrition-and-health/nutrients
The vegan diet isn't the be all and end all to good health, but taking a leaf out of the vegan way could help set you off in the right direction. Why not give it a go, start with one meal a day or one day a week and see how you like it.