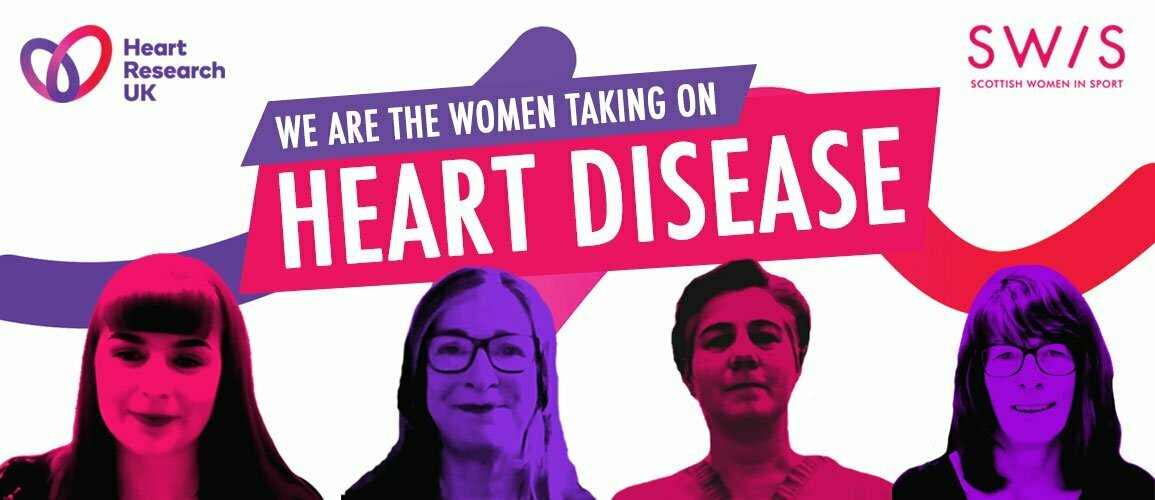 On Thursday 11th February 2021, Heart Research UK and their partners Scottish Women in Sport proudly supporting International Day of Women and Girls in Science. To highlight the relationship between a healthy lifestyle and a healthy heart.
International Day of Women and Girls in Science is a worldwide celebration of the women who work and contribute to the most incredible scientific breakthroughs that we see every day. This day of celebration also acts as an important reminder of the accomplishments of women and girls in STEM (Science, Technology, Engineering and Mathematics) careers all over the world.  Furthermore, International Day of Women and Girls in Science is an opportunity to promote full and equal access and participation in the STEM fields for women and girls.
In association with the Heart of Scotland Appeal, Heart Research UK has partnered with Scottish Women in Sport to highlight just a few of the leading Scottish female researchers, clinicians, academics and practitioners who have devoted their time and expertise to taking on heart disease.
Every year, coronary heart disease, including heart attacks, kills around 2,600 women in Scotland – that's seven women every day.
On International Women and Girls in STEM Day, we want to encourage more young women to follow their passion for science subjects, provide links to useful resources and to illustrate the impact that they can have on the scientific landscape of the future.
We have invited four female Scottish scientists to share with us their experiences of working in STEM and their advice for any young person wishing to follow a career in science subjects.
Susan Currie
Senior Lecturer and Research Scientist
University of Strathclyde
Do you want to know more about getting into STEM subjects?
Click on the following links to find out more about how you can get involved in STEM subjects or download useful resources, tools and advice on taking up a career in Science, Technology, Engineering and Maths.
Recent Statistics related to Heart Disease in Scotland:
Every year, coronary heart disease, including heart attacks, kills around 2,600 women in Scotland – that's seven women every day.
There are currently around 90,000 women in Scotland who are living with coronary heart disease. But too many women are not aware that they are at risk
720,000 people in Scotland are living with the daily burden of heart and circulatory diseases.
In Scotland, coronary heart disease kills almost three times as many women as breast cancer
Coronary heart disease is one of the leading causes of death in Scotland
Death rates from coronary heart disease in Scotland are higher than those in England, Wales and Northern Ireland
In 2019, Heart Research UK launched the Heart of Scotland Appeal in response to the startling statistics associated with levels of cardiovascular disease in Scotland. 47 people a day die from cardiovascular disease in Scotland.  47 people, every single day.
The Heart of Scotland Appeal garnered significant support across many corporate supporters, well-known celebrities, parliamentary figures and networks who wanted to raise awareness of heart disease in Scotland specifically.
One of those networks that we were keen to partner with was Scottish Women in Sport, a registered Scottish Charitable Incorporated Organisation.  Their vision is one where females of all ages, abilities, ethnicities and walks of life are participating in sport or physical activity, within a positive, equitable culture where their achievements are promoted and celebrated.
With their links to acclaimed top-level athletes from a range of disciplines, alongside the numerous eminent researchers and clinicians that have offered their support to Heart Research UK, we felt a campaign that would celebrate these exemplary female role models would work perfectly. To tie in with both International Day of Women and Girls in Science on February 11th and International Women's Day on March 8th, our aim is to not only educate a large audience of the threat of coronary heart disease but to encourage women everywhere to get more involved in sport and physical activity.
On March 8th 2021, we will be celebrating International Women's Day by featuring inspirational video interviews with some of Scotland's leading female sports performers to talk about what motivates them and what advice they can give to all aspiring sportswomen.