Leave a gift in your Will
Today, around 460 people will die from cardiovascular disease. Many of these are preventable. Parents, grandparents and even children, all taken away from their families too soon.
Through pioneering research and accessible education, we will reduce the number of people developing and dying from heart disease, while improving and extending the lives of those affected.
Margaret Watson (pictured) worked in the NHS for over 30 years. She left a gift in her Will to Heart Research UK because she understood the need for research into medical conditions. Her great-nephew was born with congenital heart disease and had open heart surgery when he was only one year old. She was in awe of what could be achieved with surgery and equally impressed with the skill of the surgeons and nursing staff. Her gift helped us fund a project, which is investigating building life-like blood vessels to repair babies' hearts, removing the need for multiple operations as they grow up.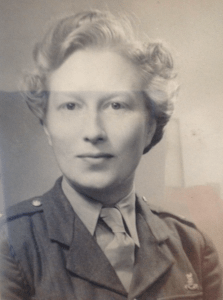 Find out more about leaving a gift to Heart Research UK, by ordering our Gifts in Wills leaflet.
Why is it important to write a Will? 
A Will makes sure your loved ones are taken care of and your wishes are clear. It makes things simpler for those you leave behind and avoids conflict at an already difficult time. If you don't make a Will, the government decides how to share out your estate and they might not do it in a way you feel is fair or benefits the people and organisations you want to. You also can't leave money to charity without a Will. 
Why should I leave a gift to Heart Research UK? 
Over half of our work is funded by gifts in Wills and they enable us to make big plans for the future. If you want to help us develop new treatments and procedures and benefit heart patients as soon as possible, leaving a gift in your Will is a great way to play your part. 
Do I get to decide where my gift is used? 
You can leave a gift to a particular area of work, for example research or education, or to be used in a particular area but the most valuable gifts are those which are unrestricted. This is because we don't know exactly what will need funding in 5, 10 or 50 years' time. Leaving your money unrestricted will allow us to put your money to best use, where it is needed the most. If you want to leave a restricted gift then please get in touch and we can discuss what area of our work you would like to benefit. 
What if I want to change my Will? 
If you want to make a simple change you may be able to use a codicil which amends or updates your existing Will. We recommend you always use a solicitor who will be able to make sure that your codicil doesn't conflict with any of your existing wishes. Download our codicil form here.  
Is there specific wording I need to use? 
It's best to speak to a legal advisor when writing your Will. The suggested wording we recommend taking to your solicitor if you decide to leave a gift to Heart Research UK can be found at the bottom of this page. 
Do I need to tell you I've left a gift in my Will? 
You don't have to tell us but we would love to hear from you if you have. Sharing your story can inspire other people to leave us gifts and it would be great if we could keep you updated on all the work we are doing.
Is it true that giving to charity can reduce my Inheritance Tax? 
Inheritance Tax is normally paid if your estate is worth more than £325,000 and is 40% of everything over this amount. Most gifts to charity aren't subject to Inheritance Tax, so it may reduce or completely remove any Inheritance Tax that needs to be paid. There is also a special Inheritance Tax rate if you give a certain amount to a registered charity or charities. Always speak to your legal advisor if you think your estate may be liable for Inheritance Tax,  and for more information download our guide to inheritance tax. 
Please inform us of a gift as soon as possible. This means we can take the deceased off our donor list so they don't get any future mailings, as we understand this can often be distressing. 
Please send: 
The full name of the deceased

 

Their last address

 

The date of death

 

Executor's name and contact details

 

Copy of the Will

 

Any reason this gift was made

 
Administering a gift 
In most cases, we would prefer to receive the sale proceeds of a property or shares gifted to Heart Research UK. However, each case is different so before taking any action to either transfer or sell property or shares, please contact us. 
Tax due on gifts in Wills 
Typically, inheritance tax is not payable on legacies to registered charities. Charities are also exempt from capital gains tax and can reclaim income tax that has been deducted at source. 
Gift Aid does not apply to legacies. 
The rules can be complicated so to avoid the estate paying more tax than is necessary please contact us or consult a professional. 
Payment information  
By Cheque: Please make cheques payable to Heart Research UK and post to Heart Research UK, Suite 12D, Joseph's Well, Leeds, LS3 1AB 
By Bank Transfer: Please contact us before sending money via bank transfer so we can let you know our details and a reference. 
It's important to have a Will, it makes sure your loved ones are taken care of and your wishes are clear. Find out more about how to write your Will and our free Will partners here
If you have any questions or want to know more about leaving a gift in your Will to Heart Research UK, give us a call on 0113 234 7474 or click on the button on the right to send us an email.