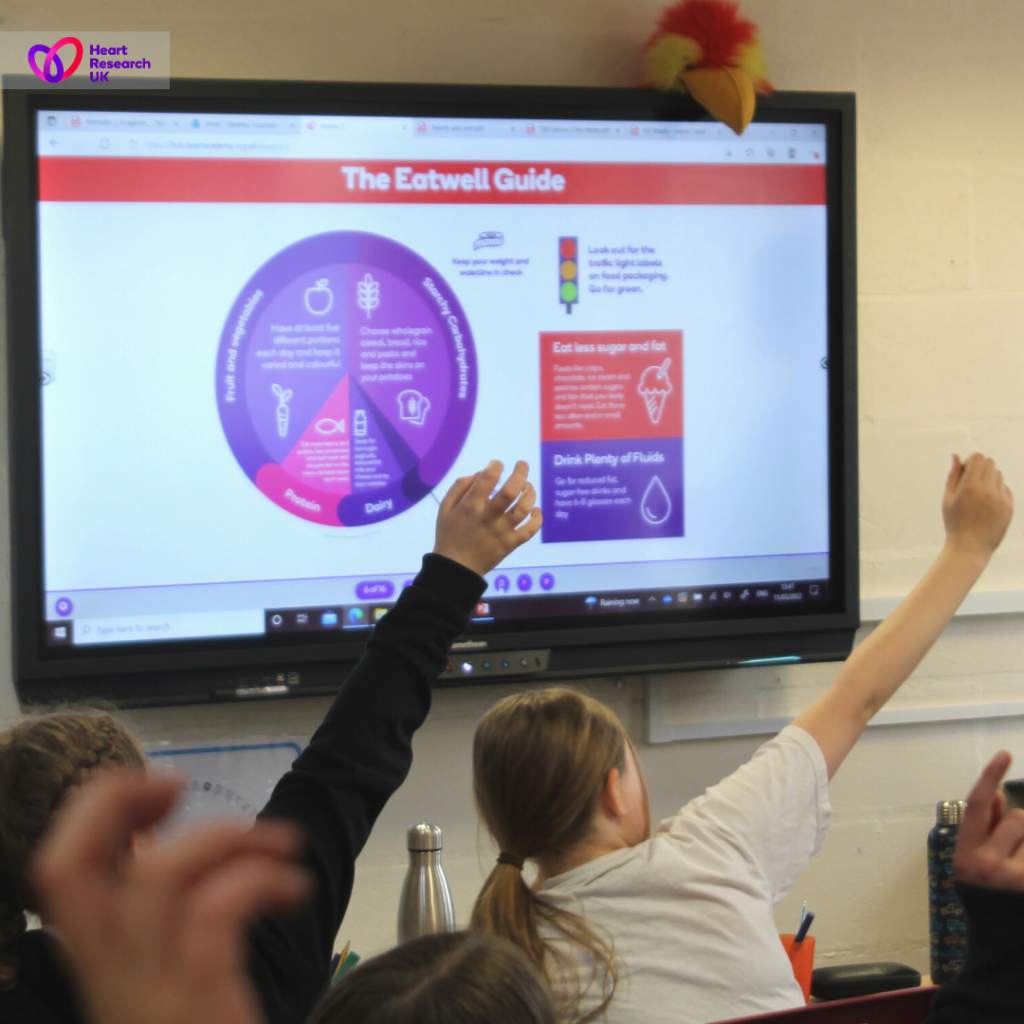 During British Science Week in March, we visited a school in Leeds who were taking part in our Primary Schools Programme, where the children learn about the heart using the latest technology.
Heart Research UK's Schools Programme is developed for Year 5 and Year 6 and is completely free. The four lessons cover all of the heart and circulatory system specification points on the Key Stage 2 curriculum, through innovative technology such as virtual reality, augmented reality and computer games.
The students in Year 6 at Adel St John the Baptist Church of England Primary School were all very engaged with the content of the lesson, especially when they got to learn by using the virtual reality headsets.
Heather Fountain, Year 6 Teacher, Adel St John the Baptist Church of England Primary School:
'The use of the technology has really made the learning come to life for the children and helped them remember facts from the previous lessons that we can then build on. It's not just been one or two students that have remembered things, but a broad range, which shows it's really embedded.
These lessons have been good for different kinds of learners. Some students learn better from just getting the facts given to them, but this is providing that practical element to those children who find reading slides a bit more complicated or harder to remember. They've learnt the information, the theory, and then they've gone away and seen it in reality.'
One of the students, Imogen Tankard, has, despite her young age, been a supporter of Heart Research UK for years, taking part in our Family Fun Run and doing fundraising with her classmates through Sing for Your Heart. She was born with a rare heart condition and had lifesaving surgery when she was only six months old.
Imogen says that the lessons have been really fun and exciting, especially the virtual reality, 'because we just had a laugh with that and obviously learnt a lot as well.' She explains that it's been very valuable to her, as she now understands her own heart condition better.
'I looked back over my doctor's notes the other day and I could actually understand some of the words now, because I've learnt things about the heart I didn't know before.'
When it comes to healthy eating, Imogen says that she, and probably most of her classmates, knew that you should try to eat healthily, but that they now have more tools to make it a reality.
'Now I can actually think "is this healthy for me" when I'm at home or see if the meal is not a good balance.'
When asked about whether she would recommend the programme to other schools, she says:
'Yes definitely, I know my class have really enjoyed it – I can hear them laughing right now. I think other schools should be able to learn these things as well, especially people like me who have a heart condition. It would help them understand it a lot more, because obviously having a heart condition is very scary.'