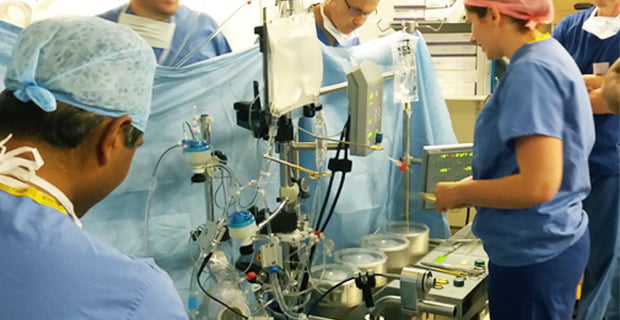 Minimal Invasive Extracorporeal Technologies (MiECT)
Our second Masterclass in Minimal Invasive Extracorporeal Technologies (MiECT) took place in September 2017 at Castle Hill Hospital in Hull. This gave 11 surgeons, anaesthetists and perfusionists the opportunity to learn more about how to use and manage 'miniaturised' heart-lung bypass machines in the lab and operating theatre.
During complex heart surgery, patients often need to go on a heart-lung bypass machine which oxygenates the blood and pumps it around the body. The mini heart-lung bypass machine uses simplified technology and has been shown to offer benefits to patients.
The expert faculty included Hansjörg Jenni, Head of Cardiotechnology at University Hospital Bern, who gave a presentation on 'Past, present and future perspectives of miniaturised extracorporeal technologies' and Mr Martin Jarvis, Consultant Cardiothoracic Surgeon at Castle Hill Hospital, who talked about 'Management of non-routine cases'.
Consultant Cardiothoracic Surgeon, Mr Alexander Cale, and Chief Clinical Perfusion Scientist, Lindsay McLean, who led the Masterclass, said: "We wanted to provide surgical health professionals with the knowledge, experience and skills to use mini-bypass systems confidently.  We believe that more widespread use of the mini-bypass systems, and a move away from traditional systems, will lead to an improvement in patient outcomes"
The course was accredited by the College of Clinical Perfusion Scientists of Great Britain and Ireland, the Royal College of Surgeons of England and the Royal College of Anaesthetists.