Project Title: Y Cook It!
Award: £3,397
Date: November 2019 – March 2021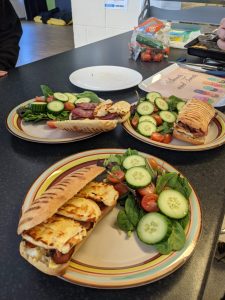 Why was this project needed?
Research shows that more young people are failing to develop basic cooking skills and lack confidence in the kitchen. This is likely due to a reliance on takeaways, and because many young people are not involved with cooking at home.
Project Aims
The aim of this project was to help vulnerable people aged 11–19-year-olds to understand that they have real choices and to empower them make the healthier choices when it comes to food.
The project initiated positive change to people's lifestyles and achieved the following:
The project was delivered to 118 young people and 116 of these members reported that they enjoyed the project – almost 100%!
Young people were inspired to 'eat the rainbow' and make 'one simple swap', with 81% of group members reporting that they had a made a positive swap, for good.
70 of the group are now trying to become more active by walking and cycling more regularly.
The project successfully adapted to deliver Covid-19 compliant group-work to extremely vulnerable young people; helping to support their mental and physical health.
Sessions were delivered via Zoom during lockdown, helping vulnerable young people to stay motivated and utilise what food they had available in their homes to prepare healthy meals.
'Young Person A' took part in the project. (NB: the name has been anonymised as they are a vulnerable young person in care)
'Young person 'A' is in their early teens and has worked with staff intensively to develop important life skills. A was challenging and disengaged from education, had poor social skills, and resisted new experiences.
Working with A over a period for this project meant we could build relationships and engage A in activities. The biggest breakthrough came through cooking! Eventually, the project leaders were able to engage A in helping them with the cooking and now A will plan, budget, shop and cook healthy meals with staff. A takes pride in their cooking and shares food with others
"A now has excellent skills in the kitchen and can make and prepare foods from scratch, such as homemade pasta sauces, vegetables, and gnocchi. A understands how to have a healthy balance and has the confidence to get enjoyment from cooking"
Lorna, Project Leader at Youth Services.