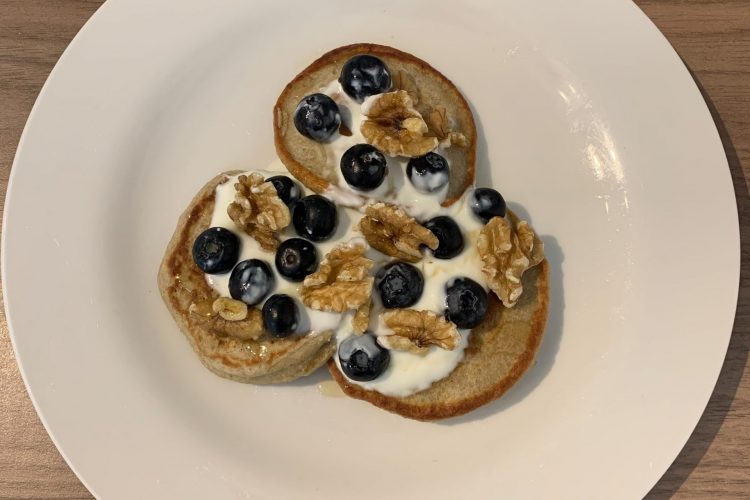 This Pancake Day, many of us will be at the ready with our flour, eggs and milk to whip up this classically simple recipe. Formally known as Shrove Tuesday, pancake day started as a day where people would empty their cupboards of ingredients in preparation for the 40 day fast prior to Easter. Pancakes offered the perfect opportunity to use up the last of our most basic ingredients and therefore became the go-to recipe around this time of the year. Whilst the tradition of using flour, eggs and milk is still a hit in many households, alternative recipes can be healthier and just as tasty.
Why Change My Recipe?
Whilst flour, eggs and milk are all ingredients we can use in moderation, we know that too many refined grain products, such as white flour can leave us feeling hungry. Alternatively, higher fibre foods such as whole-meal grains and oats can help to lower our cholesterol, reducing our risk of heart disease, and maintain good digestive health.
In addition to changing the pancake recipe, it may also be beneficial to consider what goes on top of your pancake. Some of the most common toppings include lemon and sugar or chocolate spread which are low in vitamins and minerals and are high in sugar which can contribute to weight gain if not eaten in moderation.  It is recommended that we keep added sugar (such as that found in sweets, cakes and biscuits) to a minimum, aiming to consume no more than 30g each day. That's around the same amount of sugar as in one regular size bar of chocolate or a can of coke. Instead, opting for heart-healthy fruits such as a handful of strawberries or blueberries, or perhaps a spoon of low-fat yoghurt, will help to keep the calories down whilst also adding a whole host of vitamins to your plate.
For a boost of heart-healthy fats, try also adding a handful of nuts such as walnuts, almonds, or cashews to your pancakes. As well as adding texture and taste to your meal, nuts contain high levels of unsaturated fats which are important for good heart heath and also contain high levels of fibre and protein.
How Should I Cook My Pancakes?
Although baking, boiling and steaming are generally considered the healthiest cooking methods, you will need to fry your pancakes for the best results. The healthiest way to fry any food is to choose an oil which is vegetable-based and has a high heat tolerance, such as rapeseed oil. Doing so will mean that you benefit from the heart-healthy fats found in vegetables oils. You may also opt for a low-fat butter alternative if you prefer the taste. Using oils and butters in moderation by shallow frying in no more than one teaspoon of oil will also help to ensure that you are not consuming too many calories.
With all of this in mind, we have created a heart-healthy recipe for you to follow this Pancake Day – check it out by clicking on the button below!