Project Title: Healthy Heart Cycle
Award: £5,400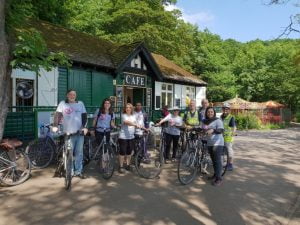 Pedal Ready introduced heart health messages into their cycling sessions as part of the Healthy Heart Cycle project. The project offered free Cycle for Health sessions in Endcliffe Park, Sheffield, for adults with risk factors for heart disease such as high blood pressure, diabetes, smoking, obesity, or physical inactivity. 
Some of the adults taking part in the Healthy Heart Cycle project had never learned to ride a bike and some just needed a little confidence boost to help them along their way. 
With the help of partner organisation, ShipShape, and local students from Sheffield Hallam University the project saw a measurable benefit to health through social prescribing. Adults who would never normally have gone to a cycling group or cycled at all were enabled to get out and about in the fresh air and enjoy free, sociable physical activity that they will continue for life.