Red Pepper soup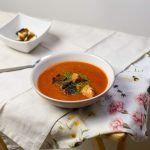 Hearty, healthy happiness in a bowl,
500 ml water
A spray of rapeseed oil
Low salt vegetable stock cube
4 sweet pointed red peppers
2 to matoes
2 sweet potatoes
1 carrot
1 onion
4 cloves of minced garlic
5
A handful of chopped coriander
Garnish: 2 slices of chopped up wholemeal
bread (parsley and garlic)
Add 500ml of water and a vegetable stock cube into a pot and allow to boil on a low heat.

Chop up all the vegetables and add them into the pot of boiling water and then boil for at least 20-30 minutes.

While the soup is boiling, chop up some wholemeal bread into small cubes, add to a frying pan with a spray of rapeseed oil, parsley and garlic to make tasty homemade croutons. Cook until golden brown and leave to rest.

Step 4: When the soup has cooked long enough and the flavours have infused, leave to cool and blend with a blender.

Step 5: Pour blended soup into individual bowls, sprinkle with the golden homemade croutons and some parsley.