Mr Steven Tsui, Royal Papworth Hospital
£249,612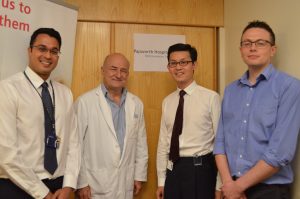 Heart transplantation is by far the best treatment for people with advanced heart failure but there is a lack of suitable donor hearts. In the UK, the number of patients on the waiting list for a heart transplant has more than doubled in the last ten years.
Hearts are generally donated by people who have died from strokes or massive brain injury. However, the effects of brain death together with conventional ways of managing the donor and of retrieving the heart often result in injury to the heart.  As a result, less than 30 per cent of donated hearts are accepted by doctors for transplantation.
The aim of this project was to develop techniques to limit injury to donor hearts after brain death, so that a greater proportion can be used for transplantation.  The research team put together special apparatus that could be used to rest the donor heart before retrieval by supporting the circulation of the donor, as well as keeping the donor heart beating outside of the body after retrieval.  Also, they showed that a new surgical technique could be safely carried out to retrieve donor hearts without having to interrupt the flow of blood and oxygen to the heart.
They then compared donor hearts managed in the conventional way with donor hearts managed with the special apparatus and new surgical technique.  This showed that donor hearts appeared to beat more strongly with the new apparatus and surgical technique suggesting that there was less injury to the donor heart.
This exciting research may lead to better use of valuable donor hearts, fulfilling the wishes of more donors and their families who have generously offered organs for transplantation.  Above all, it would give more patients who are dying from severe heart failure the chance of a life-saving heart transplant.