What if we told you that you can do your bit towards vital heart research simply by shopping online?
Thanks to our long-running partnership with online fundraising and money saving platform Savoo.co.uk, you can now raise free donations (yes, at no extra cost to you) when you do your online shopping from the comfort of your home.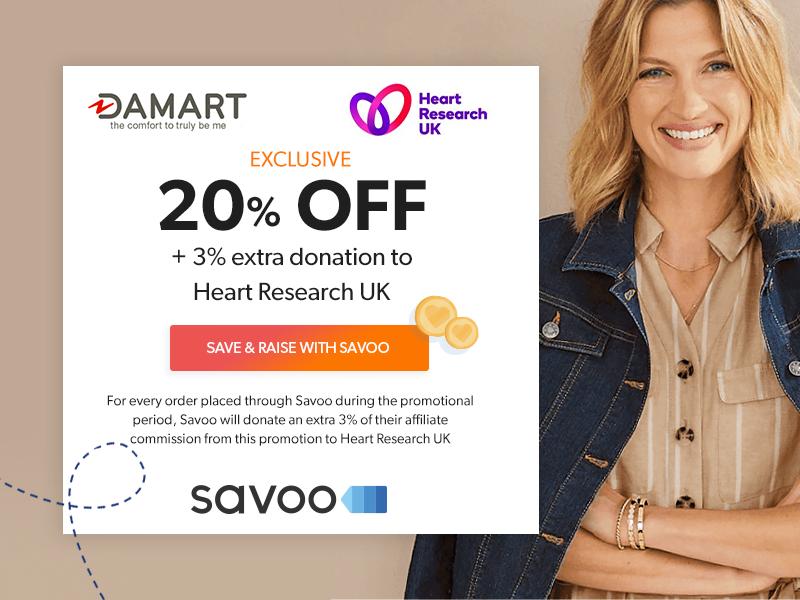 From 7th to 21st March, all orders made for womenswear favourite Damart through the Savoo platform will generate a free donation straight to us equal to 3% of each order value. Plus, there's even an exclusive Damart discount code for 20% off all orders to help you out.
Why not use this fantastic offer to buy mum a gorgeous Mother's Day gift she'll love while giving back to a cause close to your heart? Whether she's after some new denim for spring, some stylish walking shoes or some light knitwear for summer, shop Damart's collection via Savoo to pick up your 20% discount and support HRUK with a free donation.
Here's how it works…
Go to the Damart discount codes page on Savoo
Click through on the exclusive 20% off all orders code (or any other deal you like)
Shop the Damart collection and redeem the code at the checkout
Once your order is complete, 3% of your order will be donated straight to us!
So not only have you bagged a cool saving, but you're supporting our vital research. We've so far invested over £27 million into research and development all over the UK, and your donations can help us continue to lead the way in pioneering research. Donations help supply ECG electrodes to be used in research, help support research projects into the prevention, treatment and cure of heart disease and fund the use of a 'flow cytometer' to analyse cells that might be able to help repair damaged hearts.
More ways to support ground-breaking research
More information about Savoo
Savoo is a leading online fundraising and money saving platform that's free to use. Explore thousands of online voucher codes for all your favourite brands. Every time you redeem a deal and save money, you'll raise a free donation for a charity of your choice from Savoo's directory of over 400 UK charities (including Heart Research UK). Simply sign up, choose your charity, and get saving and raising. Find out more about how it works.