Project Title: Brighter Futures
Award: £10,000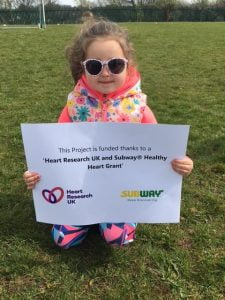 "You are never too young or too old to start, to get active, eat well and look after your heart!". This is the key message of the Brighter Futures project.
The project has helped to create a multi-generational healthy heart culture amongst families in Coalisland, a small rural community in Northern Ireland.
The rural location means that it is not always easy for families to access services locally, however this project enabled numerous healthy heart activities to run locally at convenient times.
The project initiated positive change to people's lifestyles and achieved the following:
Encouraged almost 300 children, parents and grandparents to engage in physical activities, raising awareness of the importance of exercise in promoting good heart health.
The 'Couch to 5K' programme attracted 28 first time runners, who have now successfully completed 5ks, and some have gone on to complete 10K races and half marathons!
The 'weekly mile' is now running in schools for 125 pupils.
84 people attended the Health Promotion Day, with many completing their own heart pledges for healthier futures.
The Healthy Summer Programme reached 129 children aged 4-11 years, which exceeded the original target.
36 children and 28 parents and grandparents also engaged in a healthy cookery programme, with many of them now reporting they are now eating different fruits and vegetables, more aware of salt intake and choosing fresh foods over processed ones.
In depth health assessments have been carried out for 20 people, including blood pressure checks, weight and body mass index, cholesterol, diabetic risk scoring and mental well-being checks.
Friends of St Brigid's was also one of the few schools to engage in socially-distanced street exercise during lockdown.
"We have had a very positive experience working with Heart Research UK, and we believe our community is fitter, healthier and more aware of the importance of good heart health as a result of our engagement in this programme. Thank you to all involved and for investing in our community".
Teresa Caravan, Volunteer Committee Member at Friends of St Brigid's
We could not be happier with the results of this grant project!