Project Title: Healthier Futures
Award: £10,000
Ended: February 2020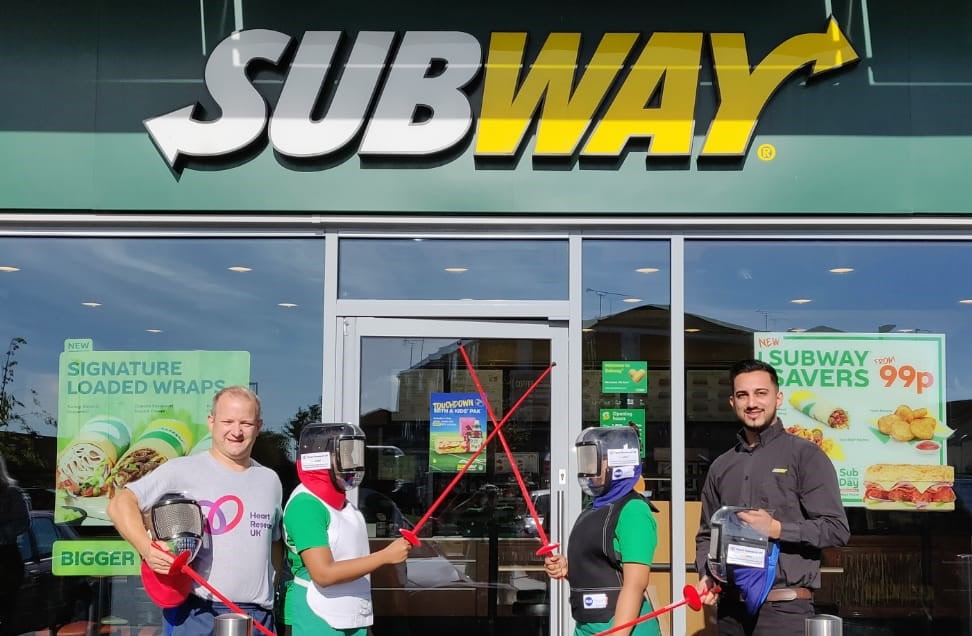 This project reached 1906 Year 5 and 6 primary school children, which exceeded the target of 1800. Using the exciting sport of sword fencing this unique project encouraged children away from sedentary lifestyles to more active lives. The project also taught pupils about the benefits of a healthy heart, a balanced diet and how being physically active can benefit them throughout their lives.
The plan was to revisit, revise and reaffirm children's understanding of how heart health through a balanced diet and exercise is crucial for a healthy life. On completion of the project, pupils completed a survey which demonstrated a good understanding of healthy eating and the importance of regular physical activity and staying hydrated. One hundred percent of the teachers felt the lessons were of value to the pupils.
Jacob – Cricklade Manor School
Jacob started fencing in April 2019 as he was feeling increasingly less motivated by team sports and wanting to try individual disciplines. He fell in love with fencing immediately and we started his fencing training in foil where the point of the blade has to hit the torso of the opponent. Although he enjoyed the speed of this weapon, he found he was on a steep learning curve against other children who had more experience than he. We then tried epee where the whole body is the target and Jacob found this one too ponderous and slow. Jacob enjoys the explosiveness of speed and fast reflex actions, both of which he found in sabre. This is the cavalry sword where hits are scored on the upper part of the body using the side of the blade in a slashing action (think Star Wars or Pirates of the Caribbean!). Any part of the blade just needs to make contact against an opponent to score, making it the fastest of the three weapons in fencing. This was perfect for Jacob though at that time there weren't any sabreurs at Swindon Fencing Club. However through Jacob's dedication and powers of persuasion, we started a small sabre class at Swindon and Cricklade. Very soon he had 11 other children trying this weapon, establishing it in its own right in both clubs. Jacob has developed very fast reflexes both in attack and defence where he always fully commits to going for the hit.
Wanting an even greater challenge and despite doing sabre for less than a year he decided to enter the Regional U12 Boys Sabre event. This competition sees the best fencers from 5 counties (Wiltshire, Berkshire, Oxfordshire, Buckinghamshire and Hampshire) fight over the course of a day to see who is the best in the region. Those finishing in the top 8, qualify to fence in the Great British Youth Championships, this year being held in Birmingham. Jacob, being age 10 was fighting at the younger end of his age group with some children there being up to 15 months older than he. After a hard-fought competition, Jacob finished seventh in the region and accomplished his goal of going to the national finals at his first attempt!
Away from the piste, Jacob has started to learn how to preside fencing bouts between junior fencers in inter-school matches. Jacob is fair minded, level headed and I believe in time will be able to achieve the qualification required to adjudicate bouts at county and regional level. As a referee he is directly accountable for his decisions to fencers and parents alike, so needs to be confident in himself and clear as to what he sees. Quite a demand to place on any 10 year old but a role I expect him to achieve and excel at in this aspect of the sport. Above all it is something he enjoys and is helping his confidence grow.
Jacob said "From the very first time I held a sword I knew this is the sport for me. I'm not naturally confident but sword fencing has really helped see how good I can be. I love helping Neil in friendly matches and want to get my refereeing qualification as soon as I can. Fencing has shown me that I can be naturally quick and by eating a balanced diet, exercising regularly and looking after my heart, I am going to be a sabreur that other children will have difficulty fencing. Bring it on."
Jacob's Dad, Paul added "Over the years Jacob has tried lots of sports but fencing has really hit a chord with him. I'm always tempted to have a go myself so who knows he might get me into it. Right now Jacob and I are working on his diet control to improve his speed, mobility and endurance. With as much training as we can get I'm really looking forward to seeing what the coming months and years will bring for Jacob and his fencing".