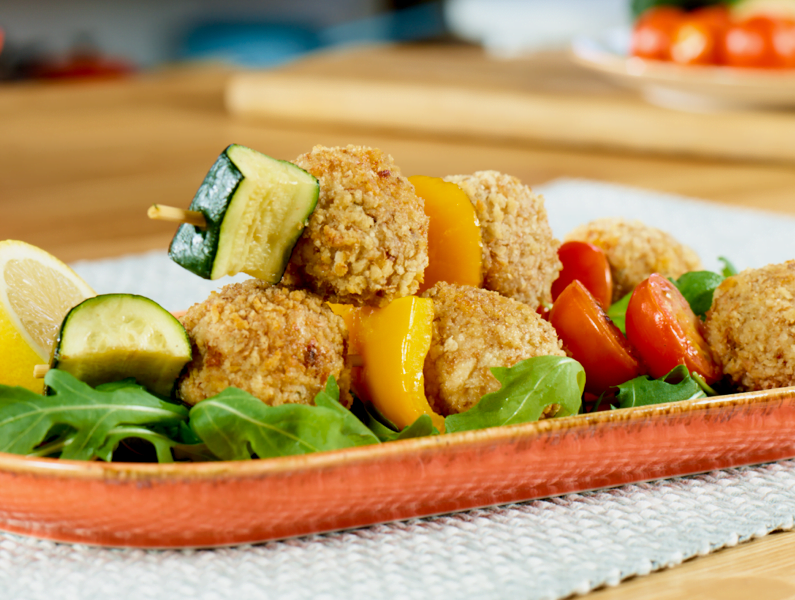 Traffic light kebabs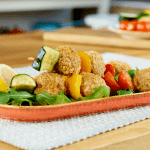 Traffic light kebabs
400 g tuna steak
A large handful of coriander
A knob of fresh root ginger (peeled & finely chopped)
2 cloves of garlic (peeled & finely chopped)
1 tsp low sodium soy sauce
200 g wholemeal bread
1 tbsp dried chilli flakes
Step 1: Pre-heat oven to 210°C / Gas Mark 7.
Step 2: Whizz the bread slices and chilli flakes in a blender to form well combined breadcrumbs.
Step 3: Finely chop the tuna steaks, combine with the garlic, ginger, soy sauce and coriander, and gently whizz
through the blender to form a workable mince mixture.
Step 4: Form ping pong sized balls with the tuna mince mixture and put to one side.
Step 5: Sprinkle wholemeal plain flour on a large plate. Separate the eggs into a bowl and use a fork to lightly whisk the egg whites

Step 6: Dip the tuna balls into the flour and shake off any excess. Use the other hand to dip the floured tuna into the egg whites, making sure the tuna balls are evenly but lightly coated — not dripping in egg.

Step 7: Press the tuna balls firmly into the breadcrumb mixture, evenly coating both sides. Place them in a single layer on a large plate, cover with cling film and place in the fridge for 30 minutes to rest and create a seal.

Step 8: Arrange the breaded tuna balls on a skewer with brightly coloured vegetables such as peppers, onion, courgette and tomato to form a colourful kebab-style appetiser.

Step 9: Lay on a baking sheet, lightly spray with rapeseed oil and bake in a hot oven for approximately 15 minutes, turning halfway through cooking.

Serve on a bed of rocket leaves and top with little squeeze of lemon, keeping the wedge for a splash of colour..