Zesty Tuna burger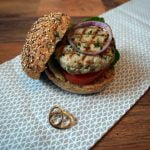 A healthier take on a burger that's just as satisfying.
200 g Fresh tuna steak
1 Garlic clove, finely chopped
1 thumb sized piece of ginger, finely chopped
Couple of splashes of soy sauce
Handful fresh coriander, finely chopped
Zest of 1/2 a lime
Chop the tuna into small chunks, then either blitz through a blender or keep chopping until it resembles mince.

Tip the tuna into a bowl and add the garlic, ginger, soy sauce, lime zest and coriander.

Combine well using your hands and form into burgers. Don't be tempted to press down too firmly as you'll squeeze out the goodness.

If you have time, leave on a plate in the fridge for at least 30 minutes to firm up.

Either stick on the BBQ or heat a griddle pan and cook for 2-3 minutes on each side. Turn the burgers twice during cooking, rotating to get the griddle lines to cross. Remove from the heat and cover with foil to cook through for a further 5 minutes. This will allow the burger to continue cooking and also rest before serving. The meat won't turn dark in colour – just make sure there's no pink.

Serving suggestion:

If you think a burger isn't complete without the bread, go for wholemeal with a scattering of seeds.

For healthier chips, slice two medium potatoes into wedges, leaving the skin on. Lightly spray with rapeseed oil and pop in the oven at 200℃ for around 15 minutes, until crisp. Serve with a helping of mixed green salad and tomatoes. A little avocado on top is lovely too.