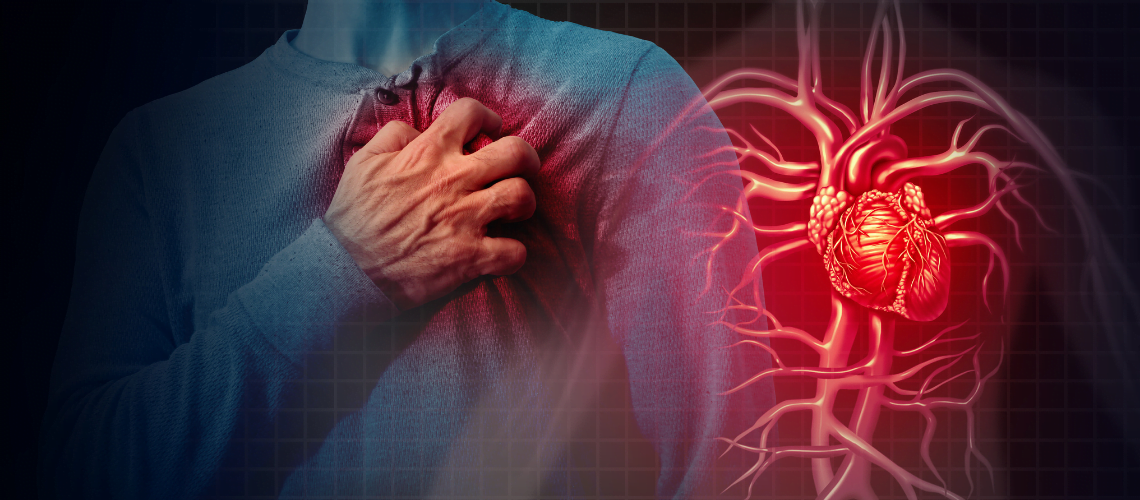 The medical term for a heart attack is myocardial infarction or MI. A heart attack is usually caused by coronary heart disease (CHD). One of the patches of fatty deposits in the coronary artery ruptures causing a blood clot to form which cuts off the blood supply to the heart muscle. This starves the heart muscle of oxygen which may cause permanent damage. The clot can cause a partial blockage (NSTEMI) or total blockage (STEMI) of the coronary artery.
In rarer cases, a heart attack can be caused by other conditions such as spontaneous coronary artery dissection (SCAD) where the lining of one of the arteries supplying the heart splits, affecting the blood supply to the heart muscle.
Symptoms of heart attack vary from person to person but may include:
chest pain which may radiate from the chest to the jaw, neck, arms and back
shortness of breath
feeling weak or lightheaded, or both
an overwhelming feeling of anxiety
A heart attack is a serious medical emergency and an ambulance should be called immediately.
Tests for heart attack usually include:
an electrocardiogram (ECG)
a blood test for an enzyme called troponin
angiography of the coronary arteries
A heart attack is treated by restoring blood flow through the blocked artery, as soon as possible, to minimise damage to the heart muscle and includes:
angioplasty to reopen the blocked coronary artery and the insertion of stents – this procedure is also called percutaneous coronary intervention (PCI) and is the most common treatment for a heart attack
coronary artery bypass surgery (CABG) using a blood vessel taken from the leg, arm or chest, to get around the blockage
treatment with a 'clot-busting' drug to dissolve the blood clot
We can't do this without you
Through pioneering research and accessible education, Heart Research UK aims to reduce the number of people developing and dying from heart disease, while improving and extending the lives of those affected.
As a charity, we can only do this with your help.
People with certain types of heart disease have a higher risk of developing serious complications from Covid-19 and there is evidence that the virus can cause damage to the heart.
We must continue to do all we can to prevent and treat heart disease.
To help us fund more research and education, please make a small donation to help ensure we can continue our work, now and in the future.