Aortic dissection is a rare but life-threatening condition where there is a tear in the inner wall of the aorta – the main artery in the body. It affects three or four people per 100,000 every year UK and in some cases patients may need emergency surgery to repair the aorta.
Aortic surgery is a highly-specialised area and is difficult to train for because the operations are complex and the numbers of patients are small. In 2014, Heart Research UK introduced aortic surgery masterclasses with the aim of improving the care of aortic patients.
The courses provide a unique opportunity for the surgeons to gain hands-on experience of total aortic arch replacement with world-renowned surgeons sharing their skills and knowledge about this important, life-saving surgical technique.
We have organised seven aortic surgery masterclasses so far, training almost 100 surgeons in this important life-saving technique.
In 2017, we set up the Aortic Dissection Support Group on Facebook which now has over 300 members.
They are able to access information, share stories and fundraise for our aortic dissection masterclasses specifically the AD Masterclasses which we have been able to fund every year (sometimes more than once a year) thanks to the support of the group.
We held the eighth aortic surgery masterclass hosted by the Keele Anatomy and Surgical Training Centre (KASTC) at Keele University.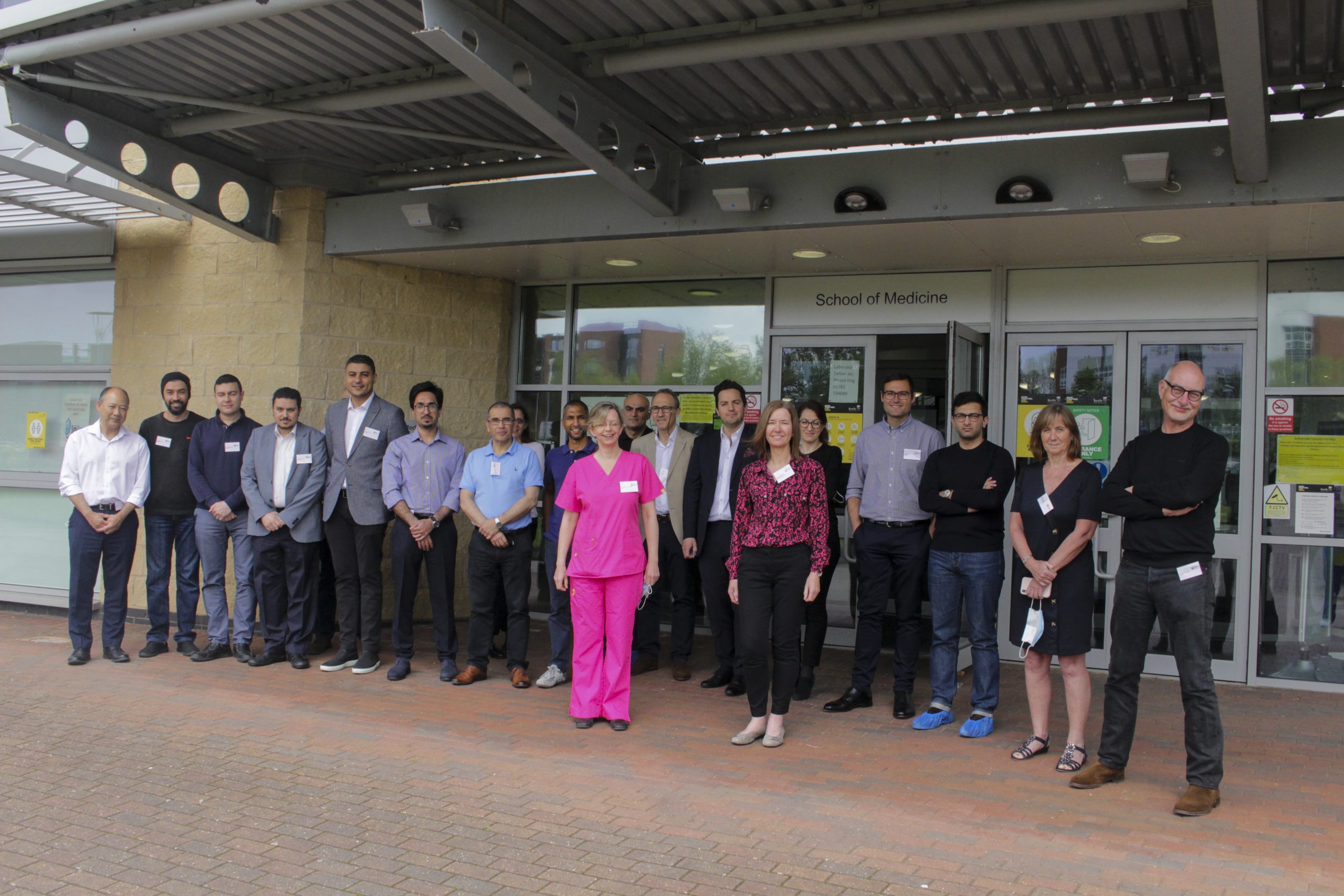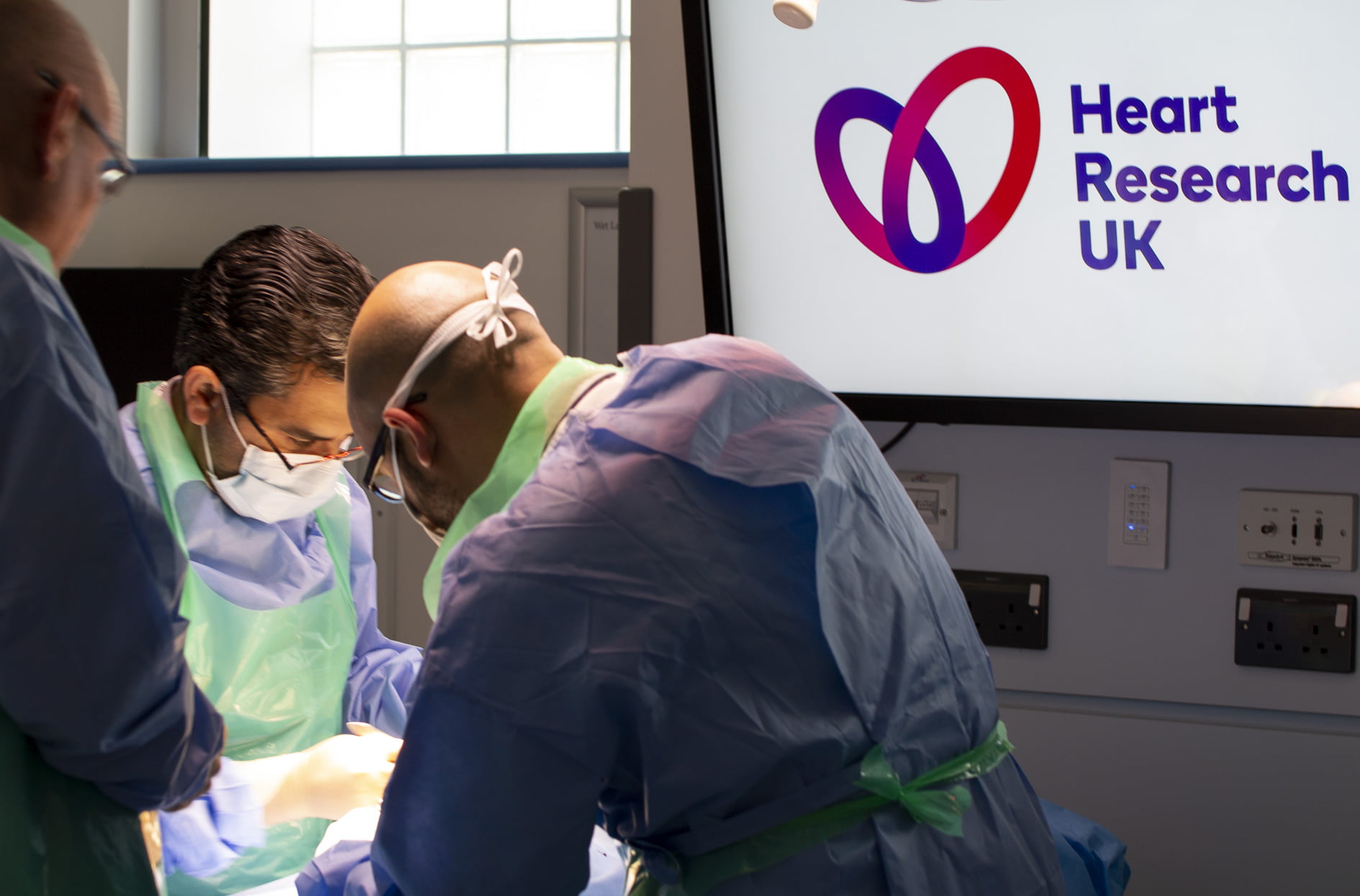 Our aortic dissection masterclasses are always over-subscribed, and the fundraising our incredible supporters do enables us to train even more surgeons who can then take their expertise back to their hospitals throughout the UK.
"Excellent course, very experienced faculty and excellent educational value for a trainee who would not have exposure to aortic work on a regular basis"
– Specialist Trainee in Cardiothoracic Surgery, Blackpool Victoria Hospital.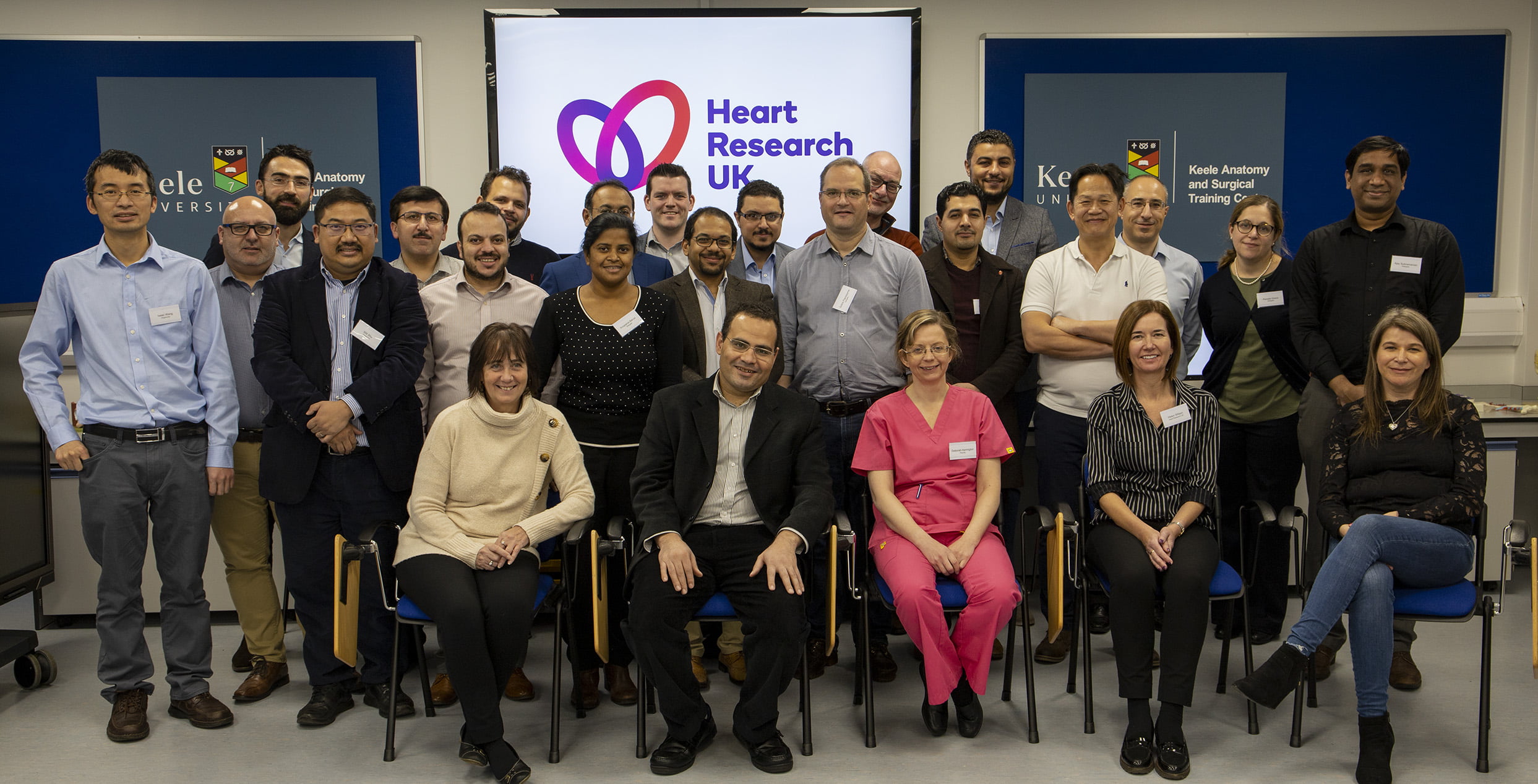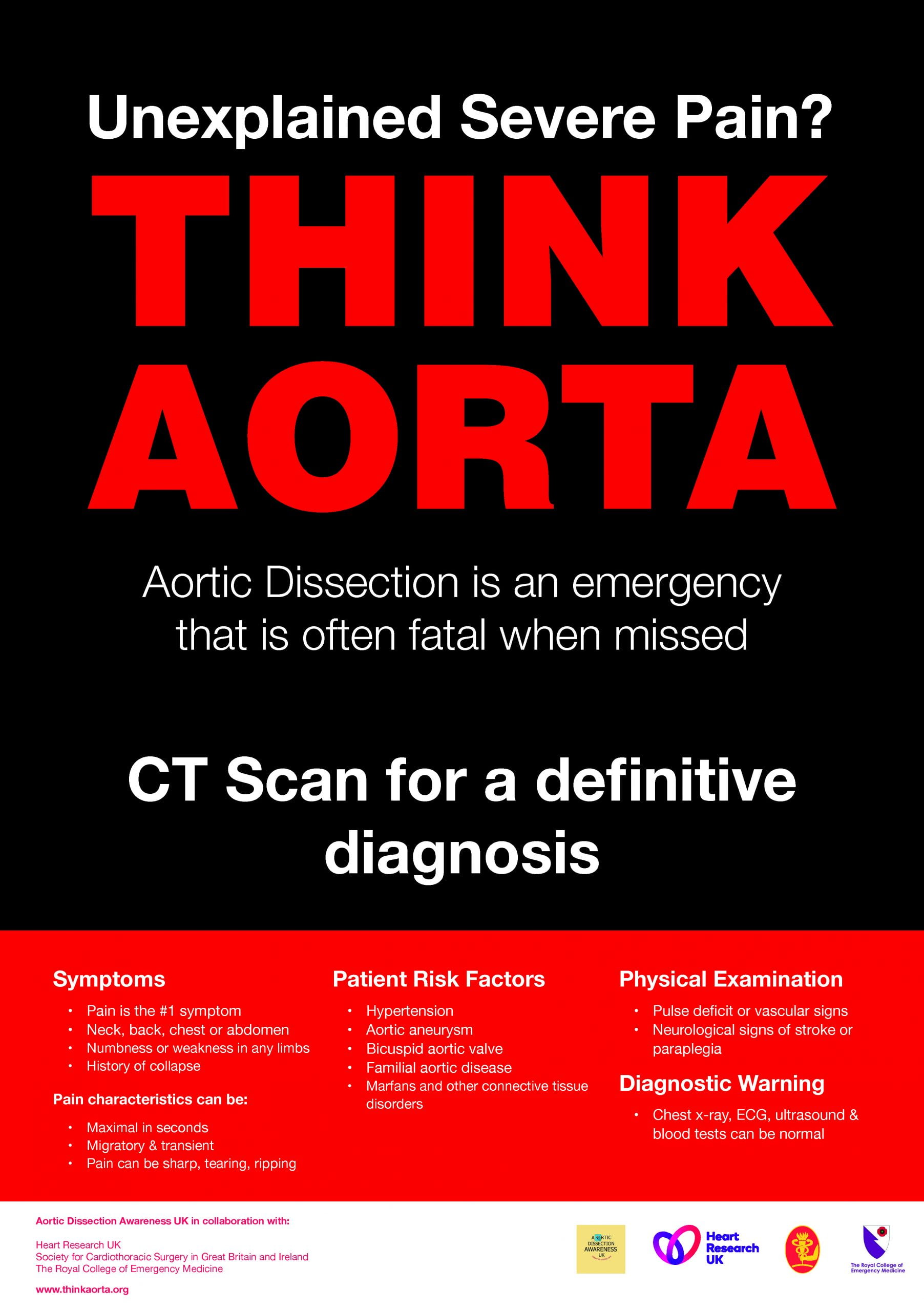 Heart Research UK is funding the 'THINK AORTA' campaign which aims to highlight early diagnosis of aortic dissection. The campaign was devised by Aortic Dissection Awareness UK, in collaboration with the Society for Cardiothoracic Surgery (SCTS) and the Royal College of Emergency Medicine (RCEM).
THINK AORTA Poster
The campaign includes the design, printing and distribution of a 'THINK AORTA' poster to all 229 emergency departments in the UK and Ireland to help educate patients and medical professionals.
THINK AORTA podcast and film
Also, a podcast and educational film has been produced for the RCEM online learning. In the podcast, patients and health professionals share their experiences of aortic dissection.
The educational film follows the golden patient pathway of a patient suffering from an acute aortic dissection – from the 999 call, to paramedics, to emergency department triage, to differential diagnosis, to radiology CT scanning, to confirmed diagnosis, to transfer for surgery.
Further information
You can read more about the THINK AORTA campaign, listen to the podcast, watch the film and download the poster from www.thinkaorta.net
We can't do this without you
Through pioneering research and accessible education, Heart Research UK aims to reduce the number of people developing and dying from heart disease, while improving and extending the lives of those affected.
As a charity, we can only do this with your help.
People with certain types of heart disease have a higher risk of developing serious complications from Covid-19 and there is evidence that the virus can cause damage to the heart.
We must continue to do all we can to prevent and treat heart disease.
To help us fund more research and education, please make a small donation to help ensure we can continue our work, now and in the future.