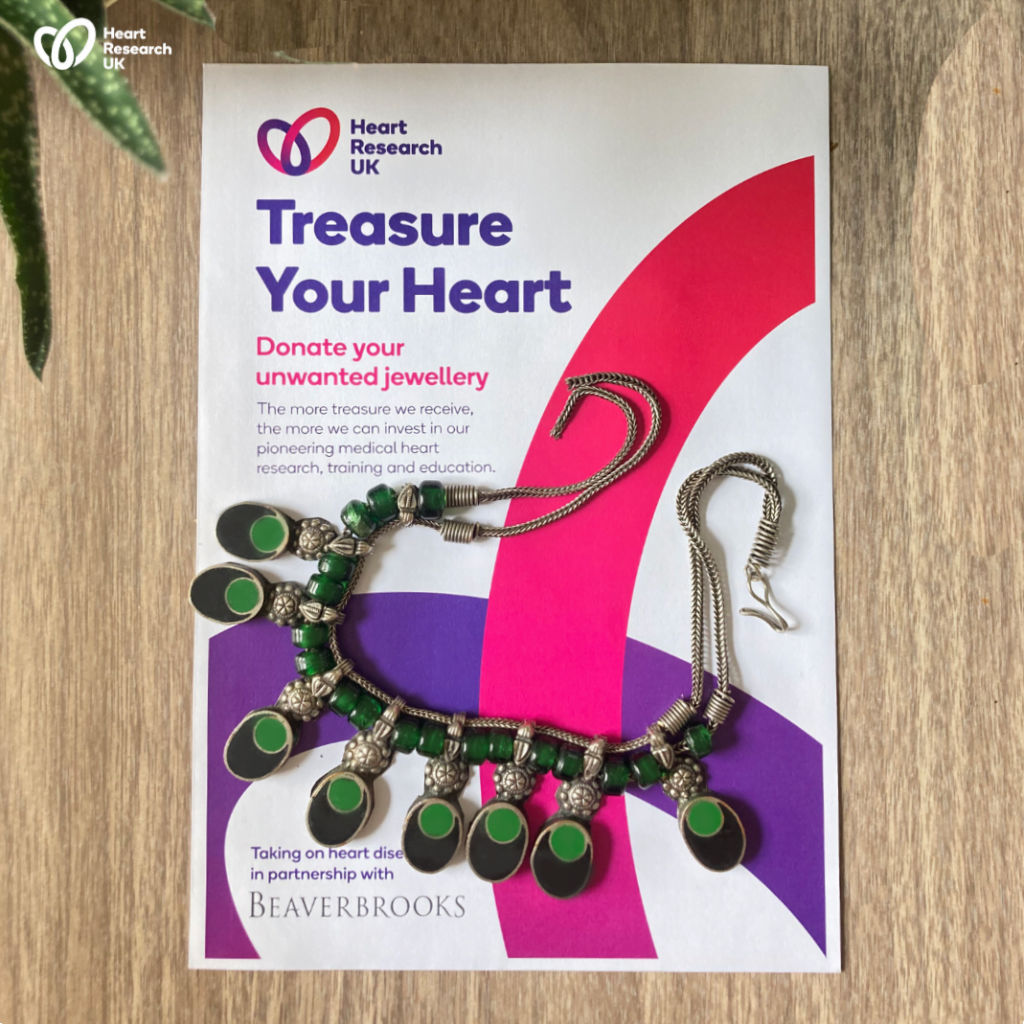 Donate your unwanted or pre-loved pieces of jewellery with our Treasure Your Heart campaign. By recycling your unwanted, broken, or odd pieces of jewellery, you will be helping to generate funds allowing Heart Research UK to continue to take on heart disease.
Check through the list below to see if there is something you can recycle and donate today.
Jewellery– all types of jewellery including fine, vintage, antique and costume jewellery (even broken and odd pieces)
Watches– all types of timepieces in any condition including wrist and pocket watches, designer watches and even designer watch boxes
Jewellery you are going to donate should always be placed in one of our special envelopes.
Drop off your treasure at any Beaverbrooks store
Treasure Your Heart is supported by Beaverbrooks. Donation envelopes can be found in all their stores nationwide and dropped back in, once filled.
Send your treasure directly to Heart Research UK
Please place your filled donation envelope in a larger envelope and post to:
Freepost RLYL-AGUE-SSBZ, Heart Research UK, Suite 12D, Joseph's Well, Hanover Walk, LEEDS, LS3 1AB
Set up your own Treasure Your Heart collection point
Get your workplace or community group involved in recycling unwanted or broken jewellery for charity. Simply get in touch and let us know how many envelopes and posters you need. Our poster is also available to download below, so you can let friends, colleagues and neighbours know where they can drop off their unwanted jewellery.
Donating high value or larger items
To donate a high value piece of jewellery, larger antiques and collectables (toys, medals, coins and silverware) or designer goods, such as handbags and scarves, please contact Heart Research UK directly on 0113 2347474 or fundraising@heartresearch.org.uk so we can arrange safe collection.
Mandy is here thanks to research.
Mandy from Beaverbrooks knows first-hand how vital funding for heart research is. Living an active healthy lifestyle, she never imagined she'd have a heart problem. In 2018, she was diagnosed with a serious heart valve condition, which required open heart surgery. Following successful surgery and recovery, Mandy is enjoying her favourite pastimes and living life to the full, once again.
"I really want to encourage people to donate any unwanted jewellery, it's a lovely feeling being able to give back and know that this will help keep families together for longer."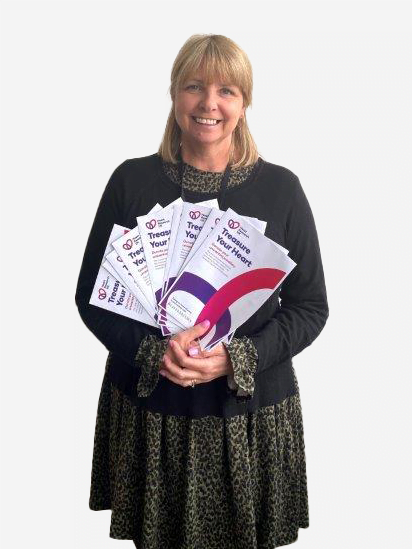 From your jewellery box to patient benefit
Even broken and odd pieces of jewellery have value. With our auctioneer partners, Fellows, costume jewellery is sold in lots and more valuable pieces are sold individually, every donation you make adds up! Thank you for helping to fund our work.